Facing the Giant é o nome do documentário que apresenta a carreira artística de Shepard Fairey. No vídeo, você pode ver os inícios punks do artista com seus 19 anos de idade até o momento atual, nos seus quase 50 anos de vida. Durante o documentário, você é apresentado aos muitos lados dele: ativista, punk, pai, marido e tudo que isso representa de forma literal e metafórica.
Afinal, Shepard Fairey sempre foi bem aberto sobre sua arte e seu trabalho e não é agora, depois de 30 anos de carreira, que ele vai ficar quieto sobre isso.
Facing the Giant: Three Decades of Dissent highlights both the continuity and evolution of my art and concepts over the last 30 years. "Facing the Giant" refers to my original "Andre the Giant Has a Posse" stickers, but more so the giant issues, the giant monolithic systems in place that I continue to confront through my OBEY GIANT campaign.
O nome Facing the Giant vem da referência inicial que os adesivos do Andre the Giant tiveram nos seus primeiros anos. Mas, o nome também vai além disso já que também é usado para representar os gigantes problemas que ele confronta com sua arte.
É esse idealismo que eu gosto de ver nas entrevistas que já vi com Shepard Fairey. E é isso que eu sei que vou ver no Facing the Giant: 3 Decades of Dissent. Além disso, quero ver como que suas obras vão aparecer no documentário. Já que, grande parte dos seus murais acabam sendo obras passageiras. Apesar disso, os temas que ele explora anda sendo cada vez mais presentes no nosso dia a dia. Ou seja, esse filme nunca esteve tão atual quanto está hoje.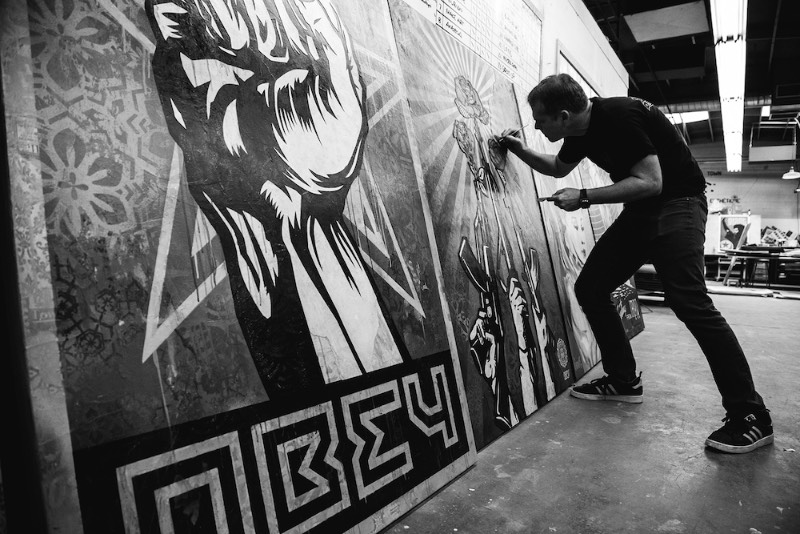 Para saber mais sobre o filme e a carreira de Shepard Fairey, você precisa ler o que ele falou para a revista Juxtapoz, na sua edição comemorativa número 200. Vale a pena.
---
Se você gostou do que viu aqui, você deveria seguir o blog no twitter ou seguir a revista digital do Pristina.org no Flipboard. Além disso, ainda temos nossa newsletter quase semanal.

Tagged: Arte, documentário, Facing the Giant, historia, os melhores, Shepard Fairey, Street Art, video, youtube