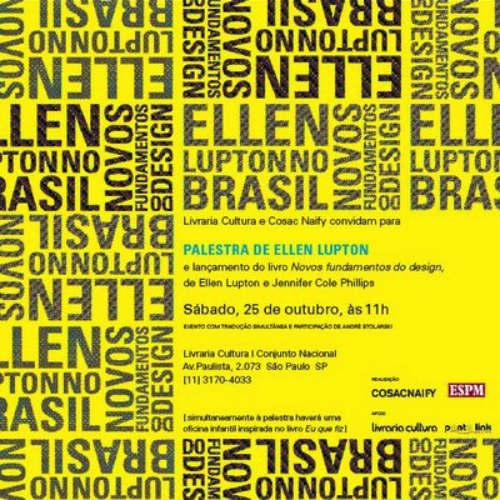 Ellen Lupton é curadora de design contemporâneo em um dos principais museus norte-americanos, o Cooper–Hewitt, National Design Museum em Nova York, onde organizou exposições e livros como Mixing Messages: Graphic Design in Contemporary Culture (1996). Também é diretora do programa de pós-graduação em design no Maryland Institute College of Art e coordena o MICA's Center for Design Studies.

Uma das mais atuantes designers da atualidade, Ellen é colaboradora de revistas como Print, Eye, I.D., Metropolis e Readymade e tem 17 livros publicados na área. Em 2007, recebeu a medalha de ouro da American Institute of Graphic Arts (AIGA), o mais importante prêmio conferido a designers nos Estados Unidos. Esta é sua primeira viagem ao Brasil.
Local: Cultura Paulista, sábado, 25 de outubro às 11h.
Post copiado na cara dura do //DesignFlakes: Ellen Lupton no Brasil

Tagged: Design, evento, sao paulo